jessipsaloquitur
Saturday night found us at the official opening of what has now been declared the Best Damn Bar in WeHo,
The Office West Hollywood
, with the hottest, friendliest staff ever. Seriously, these boys are adorable and they love us like Dean Winchester loves pie! As they should. For we are awesome and we were totally the funnest table at the bar that night! And we have the pictures to prove it. *g*
But, that's for another post. This post is all about DARREN FREAKIN' CRISS!!!!!
So, the Darren portion of the evening started with this:
Ahhhhhh!!!!!!!!!!!!!!!!!!!!!!!!!!! He's so damn adorable and so nice and charming and just RIDICULOUS AMOUNTS OF AWESOME!!!! We did tell him that we'd be having lunch with him soon because we'd just won the charity auction and he's all "awesome, you'll get to see me stuff my face!" *laughs* He did promise me that he'd take us somewhere nice. :)
The M&G was super fast, but it was handled really well, and he was gorgeous and charming and completely precious, and it was SO VERY WEIRD to be one of only 5 or 6 girls in line for the M&G, after having recently stood in M&G lines for Adam Lambert. The gay boys have mad love for Darren, let me tell you! Poor Adam, man. He would have been in heaven! *g*
So, the Darren portion of the night started with a hug from Darren and ended with Darren singing his entire set no more than TWO FEET FROM MY FAAAAACE!!!!!! Holy crap he was so close I could practically see his tonsils when he sang! *laughs* The bar was teeny-tiny. The piano he was playing at was tucked into the corner, and we were at the closest table to the piano. But by the time everyone squooshed up behind me, I was getting close and personal with the cute little twink in front of me and Darren was singing right in front of our faces. And, really, I don't know what I enjoyed more, Darren being OMG right the fuck there, or the cute little twink in front of me completely loosing his shit over Darren the entire time! He was so freakin' adorable!!! His name was Scotty. I know this because after Darren's set he turns to me and is all "I feel as if I've been in a relationship with you," let's meet! *g* Seriously, though, he was SO EXCITED over Darren. It was presh!
Anyway, Darren sounded AH-MAY-ZING! He did about a 40 minute set. He opened with this wonderful, slowed down cover of Kelly Clarkson's "Since U Been Gone," and he closed with "Not Alone." I'm sure I'm forgetting some of it, but this is what I remember of his set list, in no particular order, because my brain was pretty tequila soaked at this point:
- "Since U Been Gone"
- "Teenage Dream"
- "Let It Be" -- this was awesome and he had the entire bar singing along!
- "Coolest Girl"
- "Desperado" -- loved this!
- "Hit Me, Baby"
- "That's All" - so beautiful!
- a Disney cover, but I'll be damned if I can remember which one
- "Not Alone"
Also, DARREN STARED INTO MY SOUL!!!!!!!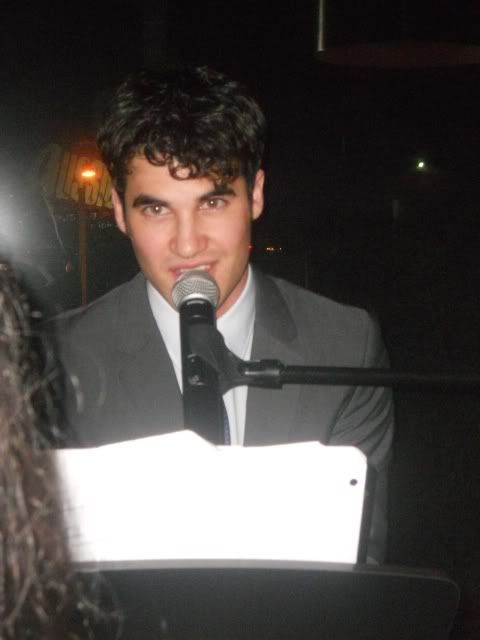 Seriously, we were so close it was a little freaky. But awesome. Definitely awesome!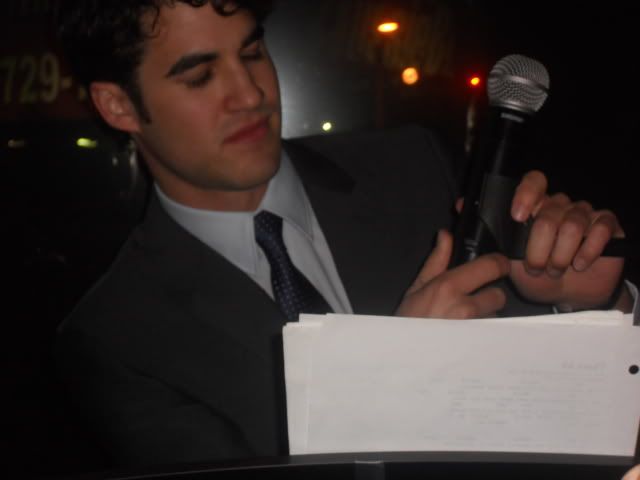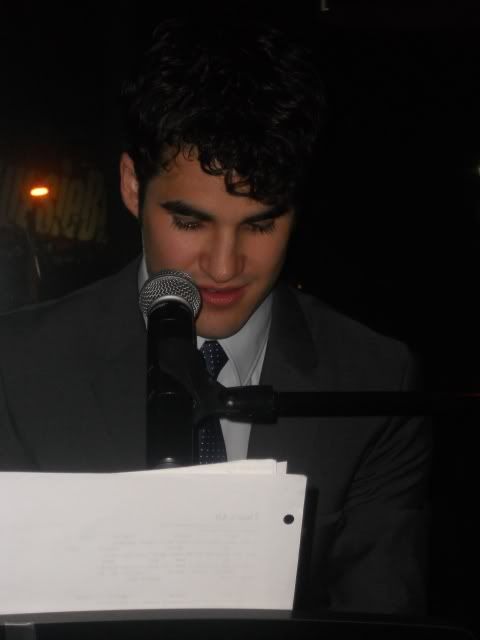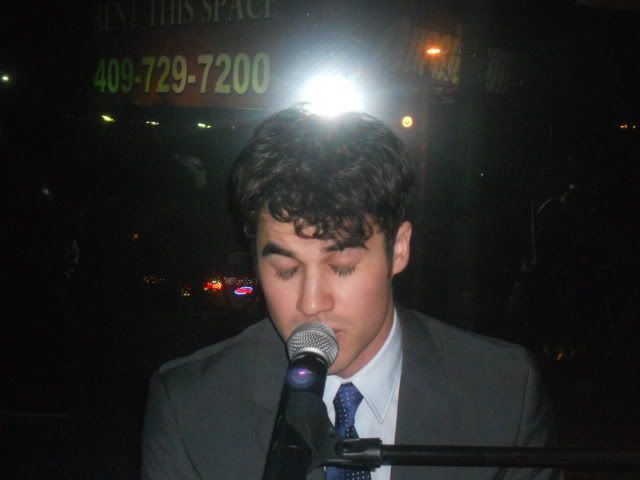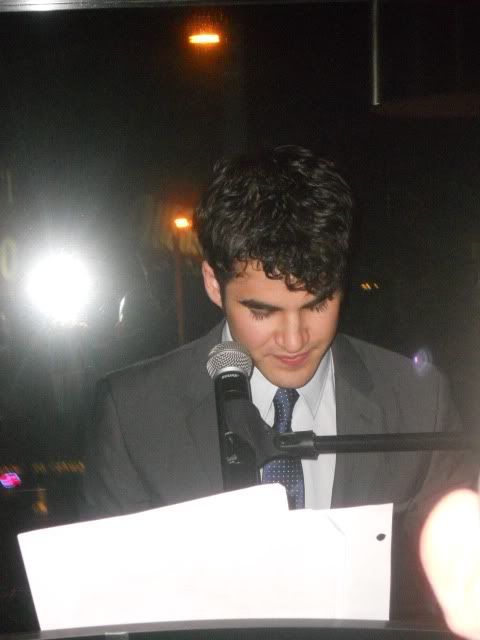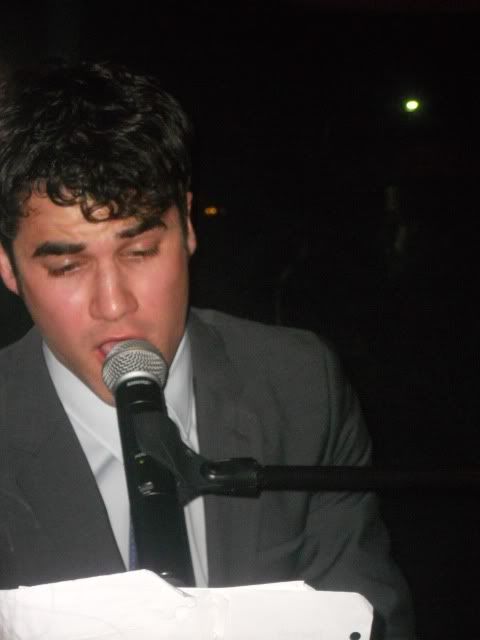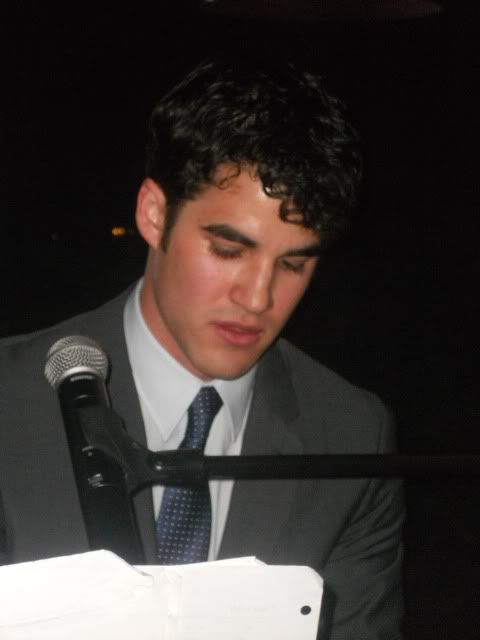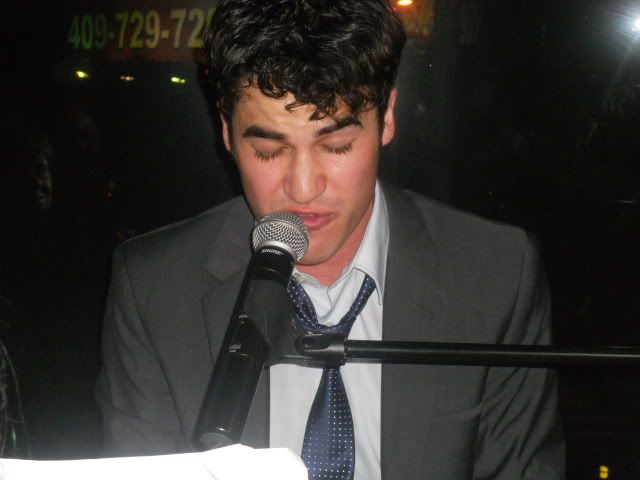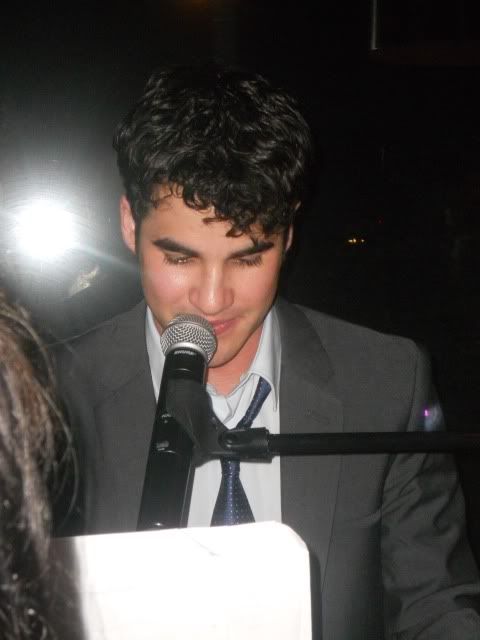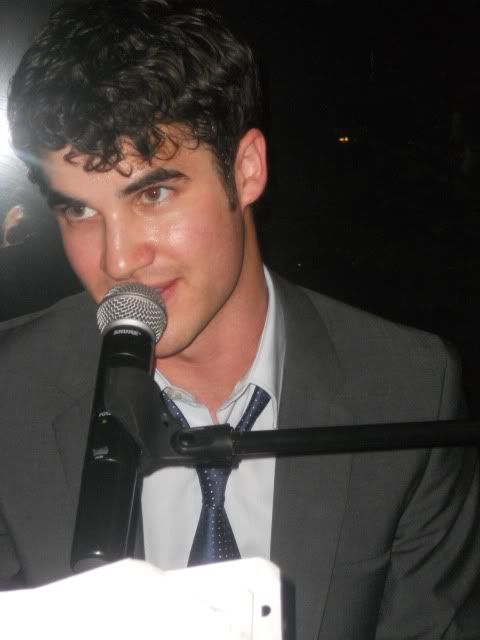 His eyes! Beautiful, beautiful EYES!!!!

There are videos of most of his set
HERE
. (With thanks to

godlizza
for the vids!) It cracks my shit up that you can totally hear us scream "THE COOLEST BITCH ON EARTH GOD DAMMIT" during "Coolest Girl"! We rock! :D
Thank the gods one of the brilliant professional photographers at the event had the presence of mind to shoot this picture:
HANDS!!!!!! Sweet jam on crackers, his hands. His gorgeous, talented hands! Excuse me while my mind goes to the dirtywrongHOT place for a moment. *bites lip*
Ahem. Ok, that was fun. *g*
Also, this happened: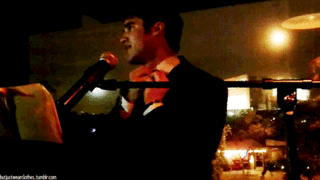 *IZ DED*
You guys. The entire night was AMAZING! So much fun. So much pretty. So much tequila!!! :D
And now Darren is probably losing sleep over having to take three crazy chicks out to lunch at some point in the near future. *g* Sorry, Darren! We'll be gentle! I promise! :)